Golden Eagle Gets Second Chance
Photo credit:  L. Caskenette
A golden eagle was admitted Wednesday evening, November 24th 2021, to the Wildlife Rehabilitation Centre. This individual, who is quite a bit bigger than the last golden eagle in our care, was found by a member of the public in the middle of the road, in between Haines Junction and Mendenhall area.
Upon initial assessment of the animal there appeared to be no broken bones but was severely hypothermic. Given it was found in the middle of the HWY, Dr. Maria Hallock guesses it was perhaps struck by a vehicle, concussed and resting in place but ultimately becoming weaker due to extended immobility in the extreme cold. While its not certain how long the animal was there for it was enough for the animal to be near frozen state upon its discovery. 
On Thursday morning the eagle was given additional fluids, on top of the fluids it received upon its arrival the evening prior. Some chicken was fed to the eagle in the later part of the Thursday along with a quail. 
On Friday the eagle appeared more responsive and alert and eager to eat by itself. This care and close observation occurred inside the Rehabilitation building where Dr. Maria Hallock waited for the animal to defecate – poop, for assessing continued signs of improvement and health in the GI tract – all good there by the way! 
The eagle will spend the next several days in the Centre being closed monitored. While during the day it will spend time in an outside care room, in the evenings it will come inside. 
If all continues well in its progress and recovery a release back to the wild could possibly happen sometime next week. 
Had this person not taken the steps they did, including assessing the animals from a safe distance and calling Conservation Officers and subsequently the Preserve, this eagle would very likely have succumbed to the elements or get fatally struck by a vehicle.
We are so grateful to live among a community that values wildlife, that cares about our natural world – it's our mission, to connect people to the natural world and everyday we're inspired by the landscape, animals and people that make this incredible territory, the Yukon, a place that is wild at heart <3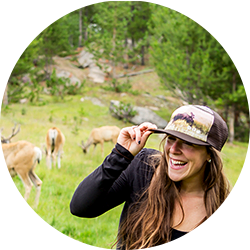 Lindsay Caskenette
Manager of Visitor Services
Lindsay joined the Wildlife Preserve team March 2014. Originally from Ontario, she came to the Yukon in search of new adventures and new career challenges. Lindsay holds a degree in Environmental Studies with honours from Wilfrid Laurier University and brings with her a strong passion to share what nature, animals and the environment can teach us.