Jake Paleczny
Executive Director
Jake Paleczny is passionate about interpretation and education. He gained his interpretative expertise from a decade of work in Ontario's provincial parks in addition to a Masters in Museum Studies from the University of Toronto. His interests also extend into the artistic realm, with a Bachelor of Music from the University of Western Ontario and extensive experience in galleries and museums.
Lindsay Caskenette
Manager of Visitor Services
Lindsay joined the Wildlife Preserve team March 2014. Originally from Ontario, she came to the Yukon in search of new adventures and new career challenges. Lindsay holds a degree in Environmental Studies with honours from Wilfrid Laurier University and brings with her a strong passion to share what nature, animals and the environment can teach us.
Dr. Maria Hallock
Veterinarian & Animal Curator
Dr. Maria Hallock was born in Russia where she volunteered at the local zoo as a child. In 1995 she graduated as Doctor of Veterinary Medicine with honours from the University of Novosibirsk in Russia. Maria gained veterinary experience while working in zoos in Russia, Switzerland and Austria, before joining the Preserve team in 2001. Maria is devoted to animal care and brings extensive captive animal experience to her position. She is an invaluable member of the Yukon Wildlife Preserve team.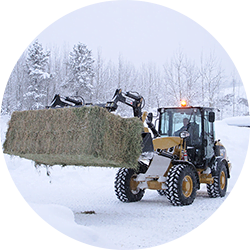 Randy Hallock
Manager of Outdoor Operations
Randy Hallock was raised in a small farming community in Alberta, where he gathered the experience that makes him so valuable to the preserve. Our longest serving staff member, he answered the call of the preserve 25 years ago. Since then, he has been dedicated to the smooth operation of the Preserve and the well-being of the animals that call it home. Randy's long term experience and dedication make him the backbone of the Preserve's operations.
Neil Tracey
Manager Education and Programming
Neil is an interpreter and biologist who has worked in wildlife rehabilitation, interpretation, and education. He joined the team in early 2023 from Vancouver. In his spare time he teaches first aid and grows far more plants than he has space for at home.
Brittney Forsythe
Visitor Services Coordinator
Brittney joined the Wildlife preserve in the summer of 2023. Growing up on Northern Vancouver Island, surrounded by the temperate rainforest, nature and animals have always been a part of her life. It exploded into a passion, when she started her dog walking business in 2017 and she began spending 6-7 days a week in the forest, rain or shine! This sparked an even deeper appreciation for the cyclical nature of the land and how all of the plants & animals work together symbiotically. She is forever 'that girl' on the hike, pointing out different rocks and plants, explaining their origin or what they could be used for medicinally. Brittney and her dog Cedar relocated to the Yukon to help care for 31 sled dogs. She is so excited to expand her local knowledge as a part of the Preserve team.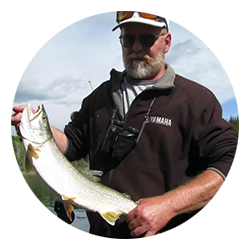 Doug Caldwell
Wildlife Interpreter
Doug is one of the Interpretive Wildlife Guides here at the Preserve. Doug has been an incredible member of this team since Spring 2017. He's an avid angler and hunter he has a broad knowledge of Yukon's wilderness and the creatures that live here. With a focus on the young visitors to the Preserve, Doug takes the extra time to help our guests to better appreciate the many wonders of the animal kingdom here in the Yukon.
Pete Neilson
Wildlife Interpreter
'Sir' Pete grew up in suburban Southern Ontario north of Toronto. In the late 80's, he followed the lure of London and Service to the Yukon. 'Sir' Pete has lived off grid in the Yukon all along from a wall tent and later a tepee in his earlier years and now a small cabin near Twin lakes. He guided wilderness canoe trips many years in the 90's and early 2000's and got his first sled dog in '91; currently he has 15 dogs for recreational mushing. 'Sir' Pete enjoys being at home or out with his dogs as much as he can. Pete has been a dedicated long standing Preserve team member since January 2015 – someone's got to work to feed those dogs!
Andrew Penley
Wildlife Interpreter
Andrew is originally from a small town south of Ottawa, Ontario. He has had a love for all animals since he could walk, except chickens! Andrew grew up on a farm with horses, chickens ( how he gained a dislike for them) cats and dogs. He moved up to the Yukon with his fiancée at the start of November 2021 to help his family with their property in the beautiful Fox Lake area! His work as a Wildlife Interpreter combines two of his favorite things, talking to new people and hanging out with animals. He hopes to be working for the YWP for a long time to come like many of the other Interpreters and other management crew! 
Rebecca Carter
Wildlife Interpreter
Rebecca joined the Wildlife Preserve in the summer of 2020 after moving from Manitoba to the beautiful and wild Yukon. Rebecca earned a degree in Biology with honours from the University of Winnipeg studying behaviour in mule deer (one of her top 20 favourite animals.. it's hard to choose!). She loves connecting with others through nature and sharing stories and knowledge about the animals at the preserve with visitors.
Megan Hopkins
Wildlife Interpreter + Animal Care Assistant
Megan joined the Preserve in May 2022 for her first Summer experience, she returned for the 2023 season. She came to the Yukon for the summer, originally from Kitchener, Ontario. She is pursuing a Bachelor of Science degree at the University of Guelph, majoring in Wildlife Biology and Conservation. Megan has had a love for animals her whole life and always dreamed about working with wildlife. 
Megan's parents met in Dawson City in 1994 so she grew up hearing countless amazing stories about the Yukon. As a traveller at heart, although she has lived in big cities her entire life, she made it her mission to see this beautiful territory for herself.
Fergus Larkin
Forester - Educator
Fergus joined the Preserve in May 2023. He has a background working in interpretation and education at Heritage Park in Calgary for multiple seasons. Fergus has a Bachelor of Science in Geography from the University of Calgary. He is passionate about conservation, and is interested in the relationship between wildlife and their habitat.
Jan Möller
Animal Care Assistant & Outdoor Operations
Jan joined the team August 2020.  After falling in love with the Yukon's wilderness during a working holiday year in 2012, he went back to his home country Germany to get a degree as a poultry specialist. In 2018, his knowledge and passion for working with animals led him back to the Yukon where he worked at local farms and gained experience working with horses, cows and sheep. Jan is passionate about caring for the animals – big and small and especially enjoys being a part of the journey for those animals that come through the Wildlife Rehabilitation Centre be released back into the wild.
You can find Jan around the Preserve on the weekends. During the week he spends his time with his family, his partner and their two kids, a boy and a girl while he takes Parental Leave. August 2022 he took on full-time work with the Preserve. Summer 2023, look for Jan helping in Outdoor Operations.
Ensio Lera
Outdoor Operations Assistant
Ensio joined the team at the preserve in 2019, and worked there for 2 years before leaving to pursue his commercial pilots licence. He is happy to be back in 2022 as an Outdoor Operations Assistant. 
Ensio was born in raised in Whitehorse and was home schooled in Mt. Lorne. As a teenager he had a strong interest in wilderness, photography, and obtaining his private pilots licence. Some of his hobbies include computers, wood working, electrical, mechanics as well as film photography. He loves fixing things that are broken!
He spent a lot of time growing up with his family in the outdoors. They would often go on kayaking and canoeing trips, as well as hunting trips. Ensio also spent a lot of time caring for farm animals such as chickens and ducks.
Nowadays ensio is focusing on his wildlife photography, commercial pilots licence, and settling in to his new home with his partner Mikayla.
Maureen Peterson
Wildlife Interpreter
Maureen is originally from North Vancouver, BC, where she lived for the first 20 years of her  life. In grade 5 she did a project about the Yukon, which is when she decided to go there. It was at age 20, and the day after she was married, that she finally moved North.  The Yukon was everything the 10 year old Maureen thought it would be and she has never had any desire to move anywhere else. Maureen has been a dedicated long-term member of the team since November 2013.
Johanne Maisonneuve
Wildlife Interpreter
Johanne joined the Wildlife Preserve in the Fall of 2014 as a wildlife Interpreter in the winter. In the summer she is a visitor attendant at Kluane National Park and Reserve. Passionate about the outdoors, she has spent a lot of her time learning about the ways of the land throughout the Yukon in the 40 years + she has lived in the territory. A cabin dweller at heart, she now enjoys sharing her knowledge and experience with visitors from all over the world who come to visit the Wildlife Preserve.
Seth Brown
Wildlife Interpreter
Having joined the team in early 2022, Seth is a passionate educator and interpreter committed to making both learning and nature accessible (and fun!) to anyone that walks through our gates. You can find him on skis in the winter, in a canoe during the summers, and playing year-round with his three stinky dogs. 
Seamus Marler
Forester - Educator
Seamus Marler is a horticulture technician from the Niagara Escarpment in southern Ontario. They are pursuing an education in ecosystem restoration and conservation and joined the Preserve's team in Spring 2023. 
Melissa Mark
Animal Care Technician
Melissa is excited to be a part of the Yukon Wildlife Preserve team this year. She was born and raised in the Yukon but has spent the last chunk of her life in B.C. living on a sailboat with her partner Eric in hopes to go on a big trip one day. She is currently studying Fish, Wildlife, and Recreation at the British Columbia Institute of Technology. She has lots of past experience with bird rehabilitation and is grateful to have the opportunity to learn more about Yukon mammals for the 2023 Summer as an Animal Care Technician.