This limited edition, very special hat (or toque as we Canadians like to call it), was made exclusively in the Yukon. This hat directly supports the diverse community that makes this place and its people so unique!
Hand-knitted in Whitehorse
The Yukon Campfire Hat buffalo plaid pattern was created by Liz Sutton, Treeline Knits of Whitehorse. Liz is an avid knitter and hiker living in the Yukon and creating an array of beautiful hand-knit products. The buffalo plaid design has been her most popular pattern. "I love the truly overwhelming response these hats got, it wasn't something I expected. I really just started out making the pattern because I wanted a fun hat for camping." Each of the 5 hats were hand knitted and fashioned by Liz Sutton, especially for the Yukon Wildlife Preserve.
Canadian Merino Wool
Liz sourced her wool from a little northern yarn shop with a big heart called Itsy Bitsy Yarn Store, located in downtown Whitehorse. Not only was fashion important in creating the hat, but of course function – the hat is made of hand-dyed Merino wool. Merino wool is known to be the less itchy and supreme warmth performance type of wool.
Sustainably Trapped in the Yukon
Liz works with local trappers for the final touch – the fashion focused pom-pom. For these hats, black wolf fur pom-poms were made by Liz. She sourced these from an ethical and sustainable black wolf trapline known as Dulac Trapping – a family run trapline on Cultus Lake located on Łù'àn Män – Kluane Lake. Trapping is an important, self-sustaining lifestyle in the North, integrated in the landscape. Dulac Trapping engages with schools for experiential learning opportunities, teaching kids how to trap, the importance of understanding and respecting the land and animals from which our life is sustained, and wilderness survival.
A Community That's Wild at Heart
The Yukon Wildlife Preserve is a non-profit charitable organization. In the 1970's Danny Nowlan started accepting and caring for injured and orphaned wildlife at the Yukon Game Farm. Nearly 50 years later the Preserve continues to care for Yukon's most vulnerable animals. Today we are a living centre of Yukon's species that connects more than 30,000 visitors to the natural world, each year.
Find out more about what the $100 donation means for the Preserve at donate.yukonwildlife.ca ((This is an example of a footnote!)).
This toque represents so much more than fashion and warmth! It symbolizes the values and lifestyles of this unique territory and the people and animals that call it home. By purchasing this hat you are supporting 5 fold – Liz Sutton of Treeline Knits, Itsy-Bitsy Yarn Store, Dulac Trapping, Yukon Wildlife Preserve – Wildlife Rehabilitation and a community that is wild at heart!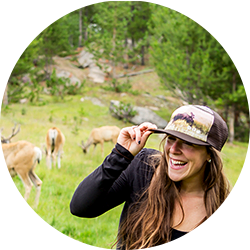 Lindsay Caskenette
Manager of Visitor Services
Lindsay joined the Wildlife Preserve team March 2014. Originally from Ontario, she came to the Yukon in search of new adventures and new career challenges. Lindsay holds a degree in Environmental Studies with honours from Wilfrid Laurier University and brings with her a strong passion to share what nature, animals and the environment can teach us.