Connecting You To Winter!
The Yukon Wildlife Preserve has seen incredible growth, especially over the last 6 of its 15 years. The Yukon is also seeing a growth in winter tourism, and locals alike wanting to get outside, explore, be active and appreciate the beauty of this territory.  In 2013/2014 the Yukon Wildlife Preserve saw 16,651 visitors, most of them in the summers months (May – August) amounting to somewhere in between 2,500 – 3,300 for each month.  In the winter, guests would grace us traditionally Friday, Saturday and Sunday's and we only saw about 750 – 1,900 during a month in the winter (those numbers from October and March respectively), with the months in between ranging between those numbers. 
Fast forward to 2018-2019 and 31,734 guests, of all ages, from all over the planet including our Yukon residents, walked, ran, skied, kicksled'd, biked or joined guided tours.  The Preserve is indeed open year-round! The landscape is incredible any season with staff and locals defending their favourite. Guaranteed is the diversity in both the landscape and wildlife viewing opportunities that welcome you with any visit! 
Winter 2019-2020 marks a new era. The Yukon Wildlife Preserve has opened its doors to the public 7 days a week! We're especially excited to connect Yukoner's and travelers to the magic of winter in the Yukon. This is when Yukon's wildlife is at its best, showing your their incredible northern adaptations.  They are displaying their winter survival skills and how you too can benefit from being in the great outdoors especially when it may seem the hardest and of darkest months to get outside and get a little wild!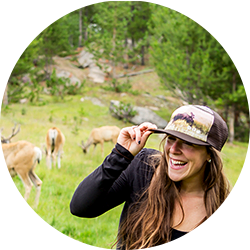 Lindsay Caskenette
Manager of Visitor Services
Lindsay joined the Wildlife Preserve team March 2014. Originally from Ontario, she came to the Yukon in search of new adventures and new career challenges. Lindsay holds a degree in Environmental Studies with honours from Wilfrid Laurier University and brings with her a strong passion to share what nature, animals and the environment can teach us.